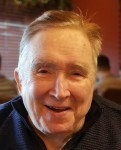 August 2, 1932
-
April 30, 2019
Born in Cleveland, OH
Resided in

Ellicott City

,

MD
Obituary
Robert John Mayher, 86, passed away Tuesday, April 30, 2019 in Ellicott City, Maryland. Bob was born August 2, 1932 to Joe and Angela Mayher in Cleveland, Ohio, and he was the oldest of two brothers. After Angela's death in 1945, he was raised by his grandmother and second mother Carol. Bob graduated from St. Ignatius High School in Cleveland, OH in 1950.
Bob worked in a Cleveland steel mill after high school and enlisted in the U.S.Army to serve in the Korean Conflict. He was severely wounded in action on the front lines during the Korean Conflict near Old Baldy Hill and was awarded the combat infantry badge and the purple heart for the injuries he incurred. He later attended Ohio State University and graduated from MIT with a Bachelor of Science in Electrical Engineering under the GI Bill.Bob was married in 1960 to his first wife of 36 years, Margot Metzler, in Philadelphia, where they met.In Philadelphia Bob worked as an engineer for Philco Ford.
In 1964, the couple moved to Annapolis, MD when Bob joined the IIT Research Institute (IITRI) at the Department of Defense Electromagnetic Compatibility Analysis Center (ECAC) as a senior engineer and project manager pioneering the development of radio frequency spectrum modeling techniques to provide compatibility and spectrum sharing. He joined the U.S. Department of Commerce's National Telecommunications and Information Administration (NTIA) in 1973, where he became a federal senior executive and the Director of NTIA's Office of Spectrum Plans and Policies. In this role, Bob helped to lead the development of U.S. spectrum management policies. Bob's 40-year engineering career focused primarily on international spectrum management and development of spectrum management systems in third world countries. He served as the Chairman of the United Nations International Telecommunications Union (ITU) Study Group I, where he made major contributions to improve spectrum efficiency. Bob led teams of spectrum management experts advising other countries, including China and Venezuela. After retiring from NTIA in 1996, Bob formed SMILE Associates to continue his role as Chairman of Study Group 1 at the ITU for several years. Apart from his career in spectrum management and traveling extensively for ITU conferences and work in developing countries, Bob enjoyed spending time with his family. He was an avid bowler and sailor whenever he had the free time.
Bob is survived by his second wife, Kathy Gasporatti Mayher; daughter, Marcie Mayher, and son-in-law, Kyle Bellamy, of Odenton, MD; son,Mark Mayher, and daughter-in-law, Holly Guard Mayher and three grandchildren:Jeffrey, Dennis and Ivy Mayher of Stevensville, MD; brother, David Mayher, and sister-in-law, Denise Mayher, of Cleveland, OH.
Funeral services will be held on Saturday, May11, 2019 at St. Mary's Episcopal Church in Bridgeville, Delaware at 10:00 AM and with Father CarlMosley officiating. Burial will follow at 11 AM in the Bridgeville Cemetery.
In lieu of flowers, donations in Bob's memory can be made to the IEEE Foundationhttps://www.ieeefoundation.org/donateor St. Ignatius http://www.ignatius.edu/give/give_now.
Services
Service
St Mary's Episcopal Church
2 Williams street
Bridgeville
,
DE
US
19933
Burial
Bridgeville Cemetery
S Laws Street
Bridgeville
,
DE
US
19933