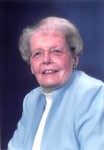 May 17, 1924
-
September 17, 2017
Born in MN
Resided in

MD
Obituary
After a blessed life filled with many achievements, Mavis Daly died peacefully in her home on September 17, 2017.

Mrs. Daly was born in Renville, MN, on May 17, 1924. She was the daughter of the late Paul and Clara Glander.

Mavis graduated from high school with honors in 1941. After a statewide test, she was among ten finalists selected by the Faculty Women's Club to receive a scholarship to the University of South Dakota. She was elected to many honor societies, the most outstanding being Phi Beta Kappa.

Following graduation from USD in 1945, she was recruited by the United States Civil Service Commission to go to Washington, D.C. to help with the World War II effort. She served in the Veterans Administration and then the U.S. Congress. Senator Harlan J. Bushfield (R-SD) was in need of a staff member with a journalism background and upon learning that Mavis was in Washington, he invited her to join his staff. This began her twenty-three years of service for members of Congress from South Dakota including Senator Chan Gurney (R-SD) and then Congressman E. Y. Berry. She remained on Berry's staff for twenty years until both he and Mavis retired in 1971.

In 1946 Mavis met and fell forever deeply in love with George Daly. They married on April 16, 1949 and had an extraordinary marriage and life together until his death in 2003.

Mavis was active in the early development of the Captain Avery Museum (formerly known as the Shady Side Rural Heritage Society) and served as co-presidents with her husband from 1993 to 1999. She continued for twenty-five years as the museum's publicity chairman. In 2009, she received the Four Rivers Heritage Award for her volunteer service of over twenty thousand hours to the Museum. She received many other honors as well, including the Gene Hall Award for her outstanding community service and the Statewide Stewardship award from the Maryland Historical Trust. Mrs. Daly lived her life as an outstanding scholar, leader, worker, volunteer and friend deeply dedicated to her family, community and country.

The celebration of her life will be held on October 2, 2017 at 11AM at the West River Center, 5100 Chalk Point Road, West River, MD, 20778. In lieu of flowers, memorial contributions may be sent to Owensville Primary Care, 134 Owensville Road, West River, MD, 20778.
Services
Celebration of Life
West River Center
5100 Chalk Point Road
West River
,
MD
USA
20778