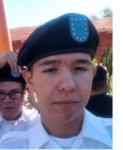 May 6, 1998
-
July 4, 2017
Born in Annapolis, MD
Resided in

Severn

,

MD
Obituary
Matthew (Matt) Julian Keyser was born May 6, 1998 in Annapolis, Maryland to Julia and Matthew Keyser, the third of three children. He is survived by his: Mother, Julia L. Keyser McKee; Step-Father, Michael D. McKee; Father, Matthew T. Keyser; Brother, Donovan J. Showalter; Sister, Karoline L. Keyser; Grandmother, Carol Whitham; and Grandfather William E. Whitham; and numerous Uncles, Aunts, and Cousins. Matthew was in a tragic car accident on 3 July and passed away on 4 July, 2017 near Corpus Christi Texas. Matthew was a PFC serving as a medic in the Unites States Army assigned to Hq 2nd Battery, 4th Infantry Regiment, 3rd Brigade Combat Team, 10th Mt. Division in Ft. Polk Louisiana. His awards and decorations included:
1. Army Achievement Medal (Two Awards, one Posthumous)
2. National Defense Service Medal
3. Global War on Terrorism Medal
4. Army Service Ribbon
5. Marksman Badge

His early home was in Eastern Maryland with the family moving to the Severn/ Baltimore area prior to him starting Elementary School remaining in the area until he enlisted in the Army in 2016. Matthew was a quiet young man who even as a toddler displayed great strength when faced with adversity.

Matthew was a poor student not interested in school and even less interested in teachers. However, his intellect was sharp, and his mind soaked up knowledge like a sponge. Traditional education was not his thing but learning was his quiet passion. He dropped out of school when he turned 16. At this time he determined he wanted to join the United States Army and the obstacle standing in his way was a High School Diploma and GED. He gained admission to the Maryland Freestate Academy impressing the staff and academic advisors with his ambition to succeed and desire to learn. In six months he went from being a borderline illiterate working at the 5th grade level to achieving testing scores at the Freshman college level. The results of his Army testing were high enough to qualify him for almost any occupational specialty the Army had to offer. A pretty impressive accomplishment for a young man who had just turned 18. When put into perspective he went from dropout to graduate in six months achieving what takes most people 12 years.

Matt had an intense love of country. He felt an unfettered desire to serve our great nation and translated his words to deeds. He possessed a compassionate empathy for his fellow man which translated into him signing up to be a medic in the Army. He was passionate about his work. He said for the first time in his life he felt trusted and appreciated for doing a good job. His long term goal was going to Ranger school and attaining additional medical training with a focus on being qualified as an EMT. He had achieved the EMT certification, Ranger training was next.

Quiet with a subtle yet well-developed sense of humor Matt once said He knew God was real because he surely invented the Maple Bar a culinary delight in Washington State.

Matt had a self-developed work ethic. Finding a job without a H.S. Diploma was tough but he would take any odd job he could find. A comment made by one employer was you only have to show him how to do the job once. He learns quickly, works quickly, works for accuracy, and gets the job done. Further if he sees a better way to accomplish a task he does not arrogantly implement the solution. Rather he proposes his thought waits for a response and generally improves the working process. This was a self-learned gift and one much appreciated by co-workers and bosses.

Matt in his short time on this earth achieved much, without glamour or prestige, without headlines, with no fanfare. Yet his short time on earth epitomizes a life of achievement, honor, character, integrity, empathy, and love. Matthew's lasting legacy will be the quiet impact he had upon many people affecting their eternal and internal values and principles. Thank you Matt for all you gave us. You truly are one of the noble spirits referenced in the Book of Abraham (3:23).
Services
Service
Hardesty Funeral Home-Gambrills
851 Annapolis Road
Gambrills
,
MD
US
21054
Burial
Maryland Veterans Cemetery
1122 Sunrise Beach Road
Crownsville
,
MD
US
21032