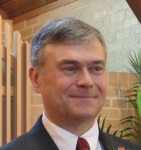 September 17, 1947
-
July 14, 2018
Born in Greensboro, NC
Resided in

Annapolis

,

MD
Obituary
Mr. John Wade Lowder, died peacefully in Annapolis, MD at the age of 70. Those familiar with him called him Wade, which was the name of his maternal grandfather.

Wade was born in Greensboro, North Carolina on September 17, 1947. He graduated from East Mecklenburg High School in Charlotte and spent two years at Gaston College earning his Associate Degree in Mechanical Engineering before joining the U.S. Navy in 1968 where he served his country as a Navigator for four years on two different 400-foot destroyers: the USS Mullinnix (DD-944) and the USS Boire (DD-21). In addition, he spent two years in the Navel Reserves with an honorable discharge in 1974. He was decorated with the National Defense Service Medal and received special training while in the Navy, including Quartermaster School, Celestial Navigation School, Combat Information Center Training, and Petty Officer training. After serving in the Navy, Wade attended North Carolina State College.

The gentle manner that Wade interacted with his family, peers, customers, and managers was a marked tribute to the integrity that he displayed. As a volunteer, he served as the Construction Supervisor on multiple Disaster Response Teams, an organization within the Western North Carolina Conference of the United Methodist Church that models the compassion of Jesus Christ by providing assistance to those in need. His disaster response efforts helped rebuild homes in places devastated by various hurricanes, such as Charleston (SC) after Hurricane Hugo (1989), Tarboro (NC) after Hurricane Floyd (1999), Roxboro (NC) after Hurricane Fran (2004), and Gulfport (MS) after Hurricane Katrina (2005). Wade also participated on a mission trip to the Dominican Republic to help rebuild a church.

Wade is survived by his wife Ellen McBride, daughter Shelley Lowder Gadd (Adam), granddaughter Berkley Grace, step-daughter Tammy Sas-Mayaux (Romain), his two brothers, Samuel (Ann) and James (Debra), his three nephews, Todd Lowder (Heidi), John Lowder (Katie), and Drew Lowder, and his niece, Abbie Lowder. Wade is preceded in death by his parents, Rev. John A. Lowder and Mae Kearns Lowder, and his sister, Sylvia Jane Lowder.

There will be two memorial worship services: one in Annapolis and one in Charlotte.
● August 4, 2018: at 5:00 pm Annapolis Friends Meeting, 351 Dubois Road, Annapolis, MD 21401 with a reception to follow in the meetinghouse.
● August 24, 2018:
o 10:00 am at the Christ United Methodist Church, 8020 Bellhaven Blvd, Charlotte, NC 28216. The burial and Military Honors will take place at
o 2:00 pm on August 24th at the Salisbury National Cemetery 501 Statesville Blvd., Salisbury, NC 28144.

All are welcome to attend and celebrate Wade's life. In lieu of flowers, please send donations to the Disaster Recovery and Response Team in care of the North Carolina Conference Treasurer-Raleigh Area, P.O. Box 890202, Charlotte, NC 28289-0202 and include "For the Disaster Recovery and Response Team" in the memo. Condolences can be added to the Hardesty Funeral Home website. The family would like to thank the staff at Anne Arundel Medical Center (AAMC) in Annapolis and specifically thank Doctors Brian Garibaldi (Johns Hopkins Pulmonary Department), Avedis Meneshian (AAMC Thoracic Surgery) and Dr. Erika Benns (AAMC Hospitalist) for their care and dedication providing quality health care for Wade and kindnesses to the family.
Services
Memorial Service
Annapolis Friends Meeting
351 Dubois Road
Annapolis
,
MD
USA
21401
Charities
Disaster Recovery and Response Team
P.O. Box 890202
Charlotte, NC USA 28289-0202
In care of the North Carolina Conference Treasurer-Raleigh Area. Include "For the Disaster Recovery and Response Team" in the memo.