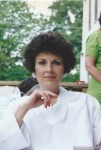 October 4, 1945
-
August 7, 2017
Born in Connecticut
Resided in

MD
Obituary
J.B. Hancock died in Annapolis, Maryland, on August 7, 2017, due to complications from multiple sclerosis and recent back surgery. She was 71 years of age.
J.B. was born Janice Elizabeth Hancock on October 4, 1945, in Meriden, Connecticut, to William and Estelle Hancock. She was the eldest of three Hancock daughters. The family moved to Alexandria in 1960. JB graduated from Hammond High School in 1963.

J.B. began her professional work experience as an educator having been graduated with a bachelor's degree from James Madison University in Harrisonburg, VA. Her first teaching experience was in the field of special education which she left after a year to begin work on and earn her master's degree from the University of Virginia-Charlottesville. She then took a position with the Council for Exceptional Children in Arlington, VA.

J.B.'s work with the Council led to her writing and producing an award-winning advocacy film for the Council entitled "Those Other Kids." This production definitely outlined the legal rights of special needs children in our country's public schools. The film's success was J.B.'s stepping stone to a stellar communications career in the Washington, D.C. In 1972, she established JBH Productions, which produced scores of films and exhibits for non-profits and government agencies. Her multi-media productions for the National Academy of Sciences and the FBI both received awards.

Also in the 1970s, J.B. joined a small group of women business owners in Washington to establish the National Association of Women Business Owners, which today has 5,000 members and 60 chapters nationwide. NAWBO is the champion of women business owners, sharing expertise and putting their unique issues before local, state, and national officials.

As her career continued, J.B. moved into senior management positions as broadcasting director with the world's largest non- profit association, AARP, and as communications director for the Washington public relations and lobbying firm, Alcade & Fay.

In 2004, J.B. left her beloved family and friends in Arlington, to take on a major career challenge as communications director for the American Veterinary Medical Association in Chicago, Illinois. When she arrived at the AVMA in late 2004, the Communications Division consisted of only a few people. She planned to stay three years to build the division. She ended up staying for a decade, leading a division that now consists of five departments for marketing, media relations, professional and public affairs, electronic media, and state legislative and regulatory affairs. In 2010 J.B. was honored for her vision, professional prowess, and hard work with the President's Award during the AVMA Annual Convention in Atlanta.

One of J. B's final crowning achievements at the association was the AMVA's traveling exhibit for the Smithsonian, titled "Animal Connections: Our Journey Together," which marked AVMA's 150th anniversary.

In September of 2014, J.B. retired from AVMA and headed home, residing again in Alexandria.

Over the years, J.B. loved to travel. She and her college roommate literally covered the country and the world. Their last trip was to Paris in 2016.

In addition to her acerbic wit, J.B. was well known for her tireless mentoring of younger communications professionals and her unbounded love of animals, especially dogs.

Just days before her death, J.B. reached out to her alma mater, James Madison University, and created the JB Hancock Scholarship Endowment for Writing and New Media Communications. Its first scholarship awards will be made for the Spring 2018 semester.

J.B. was preceded in death by her parents and her beloved sister, Pamela Hancock O'Reilly. She is survived her sister, Maryann Hancock Leffingwell, brother-in-law Richard Leffingwell, and nephew Richard "Pip" Leffingwell, all of Chicago; by nephew Ned Patrick Leffingwell, his wife, Tara Misra, and their daughter, Arwyn, of Ames, Iowa; brother in law Laurence O'Reilly, nephew Andrew O'Reilly, and niece Nora O'Reilly, all of Arlington; and godsons, Travis Meyers of Portland, Connecticut, and Hunter Gorinson of New York City and Cornwall, New York.

A parting celebration of a life well lived is planned for early October. Interment will be private.

In lieu of flowers, please make a donation to the Animal Welfare League of Alexandria, 4101 Eisenhower Avenue, Alexandria, VA 223054, or to the J.B. Hancock Scholarship Endowment/JMU Foundation, Inc., Advancement Gifts and Records, James Madison University, MSC 3603, 220 University Blvd., Harrisonburg, VA 22807.