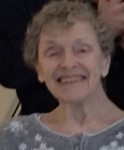 December 31, 1924
-
July 19, 2018
Born in Baltimore, MD
Resided in

ANNAPOLIS

,

Maryland
Obituary
JANE EVAN THORN MOULTON 12/31/1924 -07/19/2018
Jane Evans Thorn Moulton, died at home in Annapolis, Maryland, in the presence of her family and loving friends on July 19, 2018. Born in Baltimore, Maryland, on December 31, 1924, to Adele Evans Thorn and Godfrey Richards Thorn; she was her Father's final tax deduction for that year! She was educated in the greater Washington D.C. area, and attended the University of Maryland. She loved sailing, animals of all sorts, being with friends, helping others, and providing assistance whenever possible to her family - both natural and adopted.

The love of her life was her husband, Bernard Webster Moulton, who predeceased her in 2008. She met him while sailing on the Severn River, with her dog, who fell overboard just in time for a handsome Midshipman to come to the rescue. Bernie married Jane at the United States Naval Academy on May 20, 1943. Together they traveled the world, including two tours in Japan. They enjoyed the company of many pets over the years, especially Penny, Shojo, lil Red and finally Sheba. Many non-domesticated critters were nursed back to health and released including rabbits, squirrels, birds, snakes and even a baby deer. Jane will join Bernie in the Columbarium at the U.S. Naval Academy, where they will forever overlook the river where they met.

She passes on her legacy of caring for others to her daughter, Ann Moulton Elliott and husband Steve, her son David Thorn Moulton and wife Tresa, her grandchildren GT Miner, James Miner, Jennifer Moulton Barton and husband George, Christopher Moulton and Whitney Elliott and wife Melissa, as well as her great-grandchildren Owen and Cam Barton and Grant and Noah Elliott.

Jane was known to adopt church friends as immediate family: to these she leaves Greg and Peggy Carr of Annapolis, Maryland, Rex and Roger Murphy of Oklahoma City, Oklahoma, Mayda Sanchez of Severna Park, Maryland, as well as all their children and grandchildren to carry on her legacy of loving others.

Jane was an active member of Alcoholic's Anonymous, counseled women in all manner of difficulties, and leant a hand in every church project until she became physically unable. She is remembered as Gramma Jane to at least three generations… Our task now is to pay it forward.

Arrangements are through Hardesty Funeral Home, Ridgely Ave Annapolis. Service will be at the US Naval Academy Columbarium at 11:00am on August 29, 2018. Celebration of life to follow.
Services
Visitation
Private
Service
USNA Columbarium
US Naval Academy
Annapolis
,
Maryland
United States
21401