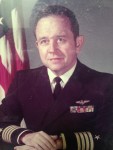 April 13, 1932
-
August 12, 2017
Born in New York, NY
Resided in

Crownsville

,

MD
Obituary
Capt. Thomas P. Cann, (USN-Ret) died on 12 August, 2017. He was born on 13 April,
1932 in New York City, the son of Mr. and Mrs. Tedford H. Cann. Tedford Cann served in the US Navy in World War I aboard USS May and was awarded the Congressional Medal of Honor.

Tom was raised in Rye, NY graduated from Rye HS, attended Colgate University, entered and graduated the Naval Academy with the Class of 1955 (16th Company). He completed flight training and earned his Wings of Gold in 1956. His first fleet assignment was to VA-126 at NAS Miramar, CA, flying FJ-4s and A-4s. Capt. Cann received orders to VA-23 at NAS Alameda and completed a cruise aboard USS Midway in 1961. He attended postgraduate school in Monterey CA majoring in Operations Analysis (OA). This was followed by a two-year instructor tour at the Naval Academy teaching OA, a first class elective. In 1964, orders followed to VA-43 at Oceana, VA, then assignment as National Plans Officer on Second Fleet Staff on USS Newport News. During the Dominican Republic Crisis in 1965, Capt. Cann served as the personal liaison officer between Commander, Second Fleet and the American Ambassador to the Dominican Republic. Operating out of the US Embassy in Santo Domingo, he helped coordinate the evacuation of thousands of American citizens. He was awarded the Joint Service Commendation Medal with Combat 'V'. In November 1966, he was ordered on a one year unaccompanied tour to the staff of CTF-77 operating at Yankee Station off Vietnam, serving 6 months each aboard USS Kitty Hawk and USS Constellation. He served as Air Operations Officer during "Rolling Thunder" conducting intense air combat operations on North Vietnam. In 1968, Capt. Cann was in the first group of 100 officers selected to join the newly established Naval Aviation Maintenance community as an Aviation Maintenance Duty Officer (AMDO). In principally aviation logistics assignments, subsequent tours included VFP-63 at Miramar providing 3-plane RF-86 photo detachments to 27C class Carriers operating off Vietnam; NAVAIR; AIMD Officer aboard USS Forestal; COMNAVAIRLANT; and Chief of Naval Operations (OP-51) where he was Naval Aviation Maintenance Branch Head. Capt. Cann retired in July 1984 after 29 years of service. After retirement, he worked for several government contracting agencies, all engaged in Aviation Logistics Support.

His commendations include Joint Service Commendation Medal with Combat 'V', 2 Legion of Merit awards, Vietnam Service Medal, and Vietnam Campaign Medal. His first wife, Betty Louise Chapel (Memphis, TN) died in 2003. He is survived by his wife Shirley Jean Cann; two children, Carolyn Casey (Dan), and Thomas P. Cann Jr (Linda); and two grandchildren, Kelly and Kristen Cann.

Tom was an avid Navy sports fan, particularly Navy Football and Lacrosse.
Services
Service
US Naval Academy Columbarium
US Naval Academy
Annapolis
,
MD
21401
Charities
ASPCA
1815 Bay Ridge Ave.
Annapolis, MD US 21403