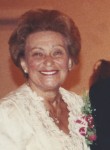 May 14, 1924
-
July 15, 2017
Born in Krakow, Poland
Resided in

Annapolis

,

MD
Obituary
Bronislawa Taler, a Holocaust survivor who arrived in Maryland as a young mother and became a devoted Annapolitan and patron of the city's cultural scene, died Saturday, July 15, of congestive heart failure. She was 93.
Known to her friends as Bronka or Bronia, Mrs. Taler and her late husband, Dr. Joseph Taler, lived for more than 50 years in a gracious home they built in Pendennis Mount, overlooking the Severn River and the Annapolis skyline. Mrs. Taler and her husband were among the founding families of Temple Beth Shalom in Arnold and enthusiastic supporters of the Annapolis Symphony, the Annapolis Opera, St. John's College and the city's eclectic social scene.
"My mother was a Holocaust survivor who came to the United States and eventually became an Annapolitan, eager to live her life to the fullest," said her son, Dr. George Taler, a resident of Severna Park. "Dad bought this land and built the house in '67 and they never left. That's where they both died." "They loved it here," said daughter Gustava (Gusty) Taler, a lawyer in Baltimore.
The home and life Mrs. Taler created in Annapolis was akin to the life her parents led in Krakow prior to World War II. Her father was a cigarette distributor in the picturesque Polish city and her childhood home reflected the family's prosperity, filled with paintings, books, and music.
In 1939, the young Bronka arrived home from school with her two best friends to find the house empty. Her parents, Leopold and Gustava Frenkiel, and her elder brother Mark, were gone.
"The German army swept through Krakow and rounded up all the Jewish families," said George Taler. "When she got home, nobody was there. . . the neighbors told her, 'You better run.'"
Bronka was just 15. "She grabbed a bunch of photos and clothes and put them in a satchel," and along with her friends -- two sisters -- took off, said George Taler. "They traveled throughout Poland to Austria, Czechoslovakia, Hungary, and Romania, working any odd job they could find. They pretty much stayed on the run." At some point in their travels, they were able to obtain false identity papers from the Polish Underground that allowed them to live as Christians.
When the war ended, Mrs. Taler returned to Krakow to try and find her family. She reunited with her brother Mark, a survivor of the Auschwitz concentration camp. A lawyer who was helping her brother invited her and her brother to a New Year's Eve party in December 1945, where she met the lawyer's son, Joseph Taler, who would become her husband.
At the time, Joseph Taler was studying medicine in Marburg, Germany with other Jewish war survivors. Bronka followed him there, taking up studies as a dental technician. The couple married in 1948, had a son, and immigrated to Baltimore two years later under the sponsorship of the Hebrew Immigrant Aid Society. "They came to the U.S. in 1951 and never looked back," said George Taler.
After living in Glen Burnie, where her husband practiced family medicine, Mrs. Taler and her family moved to the Pendennis Mount home where she lived until her death. She also joined her husband in his office, working as a lab technician for about 20 years. But her life was rooted in Annapolis where she loved to cook, entertain, play bridge, and patronize the arts community. She was also a voracious reader and made good use of Anne Arundel County's public libraries.
Mrs. Taler and her husband were enthusiastic travelers, visiting every continent but Antarctica. "Real explorers," said daughter Gusty. "She was a cross between Sophia Loren and Ingrid Bergman -- stunning and elegant, but somewhat shy. She was also a true friend to so many from all walks of life and from all chapters of her life."
The Talers returned to Poland only once as part of a tour with the Smithsonian Institution. They had a fondness for Italy, traveling there 13 times. But home was Annapolis.
Mrs. Taler's beloved husband of 64 years died at home in 2012.
Despite the hardships of her early life, Mrs. Taler is remembered by her children as extraordinarily gracious and grateful for the life she built with her husband.
"It was a beautiful life once I came here," Mrs. Taler told her daughter, "the only thing I missed my whole life was my mother."
Mrs. Taler is survived by her son and daughter, daughter-in-law Cyndy, two grandsons, David (Natalie) and Jordon (Christina), two great-grandsons, Jackson and Hudson, and a great-granddaughter, Harper Belle.
Memorial donations can be made in Mrs. Taler's name to the U.S. Holocaust Museum.
Services
Service
Temple Beth Shalom
1461 Baltimore Annapolis Blvd
Arnold
,
MD
US
21012
Burial
Kneseth Israel Cemetery
101 Defense Highway
Annapolis
,
MD
US
21401
Charities
United States Holocaust Museum
100 Raoul Wallenberg Place SW
Washington, DC 20024